Sharing Your Small Business Story
Your small-business emerged from a small but brilliant idea. Perhaps you've known where your passion lies and have been working towards it since the age of 10. Maybe the idea came to you one night in a dream. Whatever your story, here is where you tell it.
Imagine you are talking with someone you just met, and you told them you run your own business. Their first question will undoubtedly be "what kind of business?" You might tell them you own a bicycle shop, and stop there. In conversation, however, you have to expect yet another question.
An "About" page is like a written conversation that answers the who, what, when, where, and why questions for your visitors. Oddly enough, it also improves your search engine visibility and rankings. Building a great "About Us" section starts with telling the story of your business, being genuine in your communication, and imbuing your page with optimized content.
Why Do I Need an "About" Page and How Do I Do It?
Why you should have an About page: It tells the world how your business got its start and the difference it can make in the world of its customers. It shares the possible ups and downs, the motivations, and more importantly the reasons why you're committed to doing better every day.
How to Do It: The key is to be brief. Your story can be told like a 3 book series or it can be told in a few short paragraphs. Find a way to share only the most important parts of your journey. In the words of Thomas Jefferson, "the most valuable of all talents is that of never using two words when one will do."
Someone Who Did It Well: Take a look at how Yellow Leaf Hammocks tells their story. They start with a shocking piece of information about poverty in Thailand, and lead into how they were moved to start a stream of ethical job creation. They briefly explain how this process sustainably benefits affected families in Thailand and how the purchase of their hammocks has a positive impact.
The About page is more about your website browsers than you.
Why it's about your customers: This page, is more about the person reading it than it is about you. It is the platform from which you tell your readers why you are the last stop in their search for what they need.
How to do it: Talk about why the person reading your site should go anywhere past your "About" page. What can you do for them? What problem can you solve? Why are you the best choice?
Someone who did it well: Charity:Water is one of our favorite charities. The about page on their site is simple and focused on how they are trustworthy, but also extends an invitation for browsers to make a difference. The goal here is to make the browsers the hero of the story.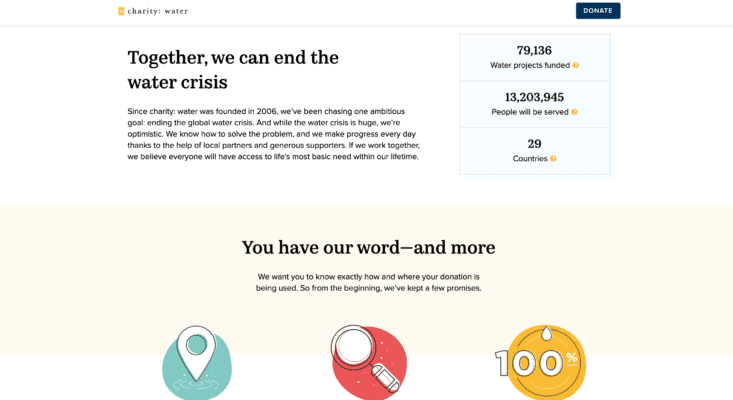 The About page brings a personal element to your business
Why your about page makes your trustworth: While it tells your story, it also shows people that there is a human being behind it all. Being human in your storytelling comes across as genuine. It's easier to trust a person than it is to trust an entity. People are also more forgiving of mistakes when they're thinking of a person with their same capacity for error.
How to do it: Include your name so people know about the person behind the business, then add a photograph to give that name a face!
Someone who did it well: The woman behind the Poo-Pourri products that went viral is named Suzy. She talks about her desire to use natural products and how she found a way to solve an odorous problem that occurs in every home, including her own.
Your About page adds another layer of search engine optimization (SEO)
Why the About page helps SEO: Popular search engines, like Google, are always reworking their processes so they can give users the most relevant and up-to-date content. Did you know that Google has a metric that actually ranks the Expertise, Authority, and Trustworthiness of websites? Yes, that acronym spells E-A-T. One of the guidelines that determines a website's E-A-T score, and subsequently its rank, is whether or not the site has an "About" page!
Search engines know that their users are looking for trustworthy sites. So, to provide them, they've started checking for these seemingly minor details.
How to do it: Add a call-to-action on your "About" page and link it to some other part of your site. If you successfully demonstrated the value of your business, your visitors will continue to browse. This boosts the time spent on your site, and the search engine's perception of your credibility.
Someone who did it well: Before and after telling their story, Bulldog Skincare invites readers to browse their products and choose a custom care routine. They start with a few lines that showcase the variety in their product line. After sharing a visual timeline of their business story, they offer readers a look into some specific and popular products to really draw their interest in.
An effective About page is a key element of a Small-Business Website
When people search for you or your business, imagine that the first search result that people see is your Homepage, and the second result is the About page. A well-built web page has the potential to appear in that coveted search results list.
For even more information on how to put together a great website, read our post on The Benefits of Local Seo and 6 Ways to Put it to Work. Then, get found online by signing up for a Google My Business account. We break down how to do it, here!
Thank you for reading! Feel free to share any thoughts or questions in the comments below!