This post is written for all the leaders out there wondering if they should invest their time in SEO (Search Engine Optimization) for their small business website.
By the time you're done reading this, you should have a basic understanding of SEO, mined some invaluable SEO tips, and be informed enough to decide if it's the right next step for your business marketing. This is the framework and the basic checklist we employ to help companies grow their business through SEO tactics.
1. Before you SEO, clarify your business goals
It's tempting to go heads down and start plowing through a big website SEO checklist (we've got one). But before you start crushing that list, it is absolutely critical that you take a good look at the current stage of your business and the corresponding marketing strategies that you think will get you to the next level. Does your business need more top of the funnel traffic to capture leads, brand awareness, ready to buy clients, etc.?
Once you're crystal clear on those marketing goals that serve your business goals, then you can start to identify the small business SEO tactics that push you toward those goals. This helps you avoid the pitfall of accomplishing goals that you as a business owner don't need or value.
The best SEO professionals tie a set of SEO tactics to their marketing and business goals.
2. Understand what SEO can and can't do.
SEO can do things like:
Attract searchers that want to see your content , i.e., increase the quality of web traffic by bringing a more relevant audience to your site.
Grow your organic website traffic by increasing your chances of ranking higher for relevant keyword searches.
Control how your brand is seen in the search results.
SEO cannot do these things:
Grow or create search demand
Build a brand by itself
Convert customers – great rankings and website traffic don't help if your website is bad
Work overnight – this is a long term investment that is different from paid search ads
3. Understand what is at the core of SEO and be realistic
At the core of SEO work is the understanding that Google does an excellent job of putting the most valuable resources/websites at the top of organic search results. This value ranking is discovered by Google, over time, and based on a number of things like backlinks, user engagement, page load speed, etc. Better ranking websites provide the most value for the searcher.
Most businesses go through a ranking progression like this: Website launch—> ranking a little —> ranking for some low competition keywords —-> ranking for more keywords—-> competing for first page rankings with all the right keywords.
Being realistic about the stage of your business's online presence is important. If you're brand new in a competitive geographic space, it's going to take you some time to start competing for rankings as Google needs some time to understand how valuable your website is for searchers.
4. Dial in your keyword research (critical)
If you don't know what words and phrases people are searching for, then you don't know how to structure your website and content. There is no need to optimize for search terms that no one is actually looking for.
Take time to create a list of terms and phrases that match your business and marketing goals. We want to be assured that optimizing for those keywords will move your business forward. This also allows you to prioritize where to invest your precious time and energy as you work on SEO for your business.
It's important to note that the best websites match their primary keywords to specific pages on the site. This helps Google know how to best use your site to satisfy "searcher intent"….which in turn makes your site more valuable and climb the rankings.
5. Understand what Google shows you
It's important that you understand what Google is showing you in search results and the corresponding strategies that influence those results. Keep in mind, not all searches result in the same layout depending on a number of factors, but generally, there are three sections, Sponsored Ads, Local Map Pack, and Organic Results.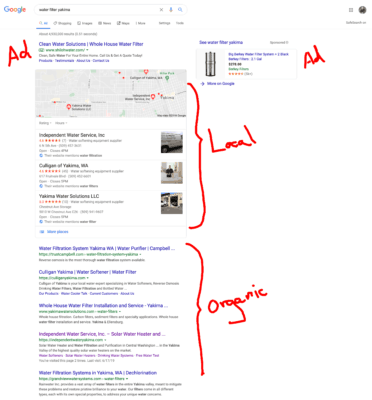 SEO – This is the work related to influencing the more traditional organic search results. The primary goal is to get ranked on the first page of results.
Sponsored Ads – This work is sometimes called Search Engine Marketing and in this case, involves Google Adwords. These results often appear above or below organic search results. This is a different digital strategy with different goals than your primary SEO work.
Local SEO – A more refined version of optimization that focuses on how your business ranks for people who are searching in or near your geographical area. Again, Google can often tell if the searcher intent includes a local aspect to it, i.e., are they trying to find a place that's close to them. This work often involves Google Maps, customer reviews, and your Google My Business profile with the goal of making it that Local 3 pack box.
6. Recognize search demand that makes sense for your business
There is a spectrum of keywords. On one side there are a small number of keywords that thousands of people are typing in each month. These are high-demand keywords…however, with this great demand comes a very scattered searcher intent. This means the audience may not be relevant to your business.
For example, if you rank for the term "basketball jerseys", but you only sell vintage Bill Walton Portland Trailblazers jerseys, then the audience you get is only partially relevant to you. Most people searching for basketball jerseys are not looking for an old Bill Walton Blazers jersey.
On the other end of the spectrum are billions of long-tail keywords that only have a handful of searches every month. These are long phrases with very, very clear intent like "Custom Bill Walton Blazers Jersey for sale". Competition for these keywords is less and search intent is clearer.
Our goal with this spectrum of keywords is to find your business's sweet spot. For most independent businesses, we want to find the spot in the middle where you have a good list of keywords and phrases that each have a search volume of 50-200 every month with hopefully low competition and great value for your company. Then you can start prioritizing where to spend your SEO energy.
7. Confirm you are satisfying search intent
Google's goal is to provide the most valuable and best possible search result for the question that the searcher is asking. Google does this through a number of different methods, historical performance, backlink, domain authority, bounce rate, etc.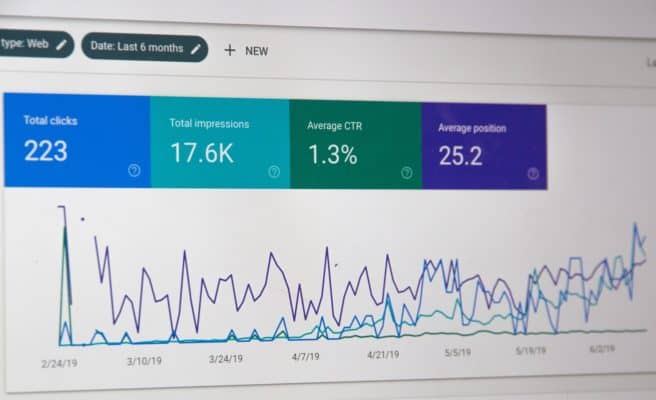 As you craft content for your website, you must put yourself in the shoes of the searcher and wrap your mind around what they are considering as they type into the search bar. Get in their head. What do they want? What are they looking for?
Our goal here is to avoid giving the searcher a reason to hit the back button and go back to search results. Google will figure that out and push you down in the results.
The websites that most effectively meet the searcher intent do a few things well:
Comprehensively and authoritatively answer searcher primary questions.
Provide a great user experience – fast loading, well designed, and easy to consume content.
Solve the searchers next tasks or questions well (point to additional tools, links, etc..)
Basic on-page SEO checklist
This is not exhaustive, but rather a launching point. The term "On-Page" refers to both the content and HTML source code of a website page that you can control.
Descriptive, compelling, keyword rich title element (not stuffed with keywords).
Meta descriptions designed to get clicks – this is not part of your ranking, but rather used to increase click through rates.
Easy to read and short URL's that make sense.
The first paragraph of your page or post optimized for features snippets. Answer questions in the first paragraph.
Use the primary keyword(s) you're targeting intelligently.

Headline
First paragraph
In page content
Internal link anchor

For each page on your website, try to target shared search intent keywords. Avoid pages on your site that say the same thing.
Use appropriate schema to get rich snippets options (star ratings, recipes, business hours)
Use images that have descriptive keyword rich filenames
Add a descriptive alt attribute to images
Caption image text if appropriate
Technical SEO checklist
Again, definitely not exhaustive but this will get you started.
Every page on your website should have value and unique content that meets the searchers intent. If you have duplicate content, you'll want to redirect, remove it, or block bots from crawling.
Confirm that all the pages are accessible to crawlers.
Make sure your pages are loading as fast as possible. Image compression and a solid cache plugin are helpful here.
Pages that have thin content should be expanded, removed or redirected.
Confirm that your internal link structure is easy to navigate. Ideally you can reach any page in three clicks.
Pages should be optimized to display on any device even at slow connection speeds.
Check your page status codes using an SEO tool like Screaming Frog.

301 = permanent redirects (probably fine and likely not causing any Google problems)
404 = dead pages (page is no longer available and likely needs to be redirected to avoid a Google penalty)
503 = temporarily unavailable (probably needs attention eventually)
200 = everything is ok with this page (thumbs up!)
any other statuses should also be avoided

Use https to make sure your website is secure. Confirm your SSL certificate is applied correctly to your website to avoid any web browsers security notifications.
Link Building
The goal here is to have other important, authoritative websites put your website URL on their website, purely for the fact that they find your content so valuable they want to share it with their audience.
It turns out that Google thinks what other people say about you is more important than what you say about yourself. If a lot of other great websites are linking to your website, then Google thinks your page is valuable.
All the SEO professionals continue to point to a solid correlation between link metrics over time and ranking positions.
Keep in mind, link building is the hardest and most time-consuming part of SEO, but it can also provide the most long-term growth for your company. There are a handful of ways to do this:
Content and outreach – Create great content on your site that people can link to and then reach out to key people and invite them so that they aware of it and can use your content if appropriate.
Reclaim links – Scan the web (there are tools for this) and correct any links that are broken, or request links to be added where your business name already exists.
Get your link up to date in any relevant directories, resource pages, groups, etc.
Find where your competitors are linked to and ask them to add your website.
Get started today!
SEO (and the internet in general) can feel overwhelming, especially for an already stressed out business owner-operator.
We suggest biting off one piece at a time and being patient with yourself. If you do 20% of what we have listed above you're beating the majority of your competition. Need to chat with someone concerning SEO. Schedule a 20 minute SEO consultation here.