Visual Elements Bring Life To Your Website
"Visual Elements" can mean a number of different things. It could be the photos of your product or storefront, the smiling headshots of your employees, the informative charts and graphs that help tell your story, or even the videos that share some component of who you are or what you do as a small-business.
All of these add a layer of texture to your website. Your small-business is not simply represented by the words on the page but in the type of images you choose.
Great website images do several important things for your business: They instantly tell customers why you are passionate about what you do, they drive new visitors to your site, they encourage sharing on social media, and they help establish a trusting relationship between you and your customers.
Read on to see why each of these is a necessary and highly usable component of your overall business strategy.
Great Images Visually Share Your Passion
Naturally, your choice of images will reflect your reasons for the work you do. Maybe you're all about using all-natural ingredients or eco-friendly production practices. The images on your site may feature vibrant shots of natural landscapes or focused shots of the pure ingredients that go into your product. Perhaps your concentration is on having the best customer service and support anyone has ever seen. Your images will likely showcase representations of the people you're working hard for, your customers.
For reference, take a look at the Home Page for Public Goods. Their products are advertised as made with the environment in mind, and the first image on the page is a clean and simple portrayal of that mission.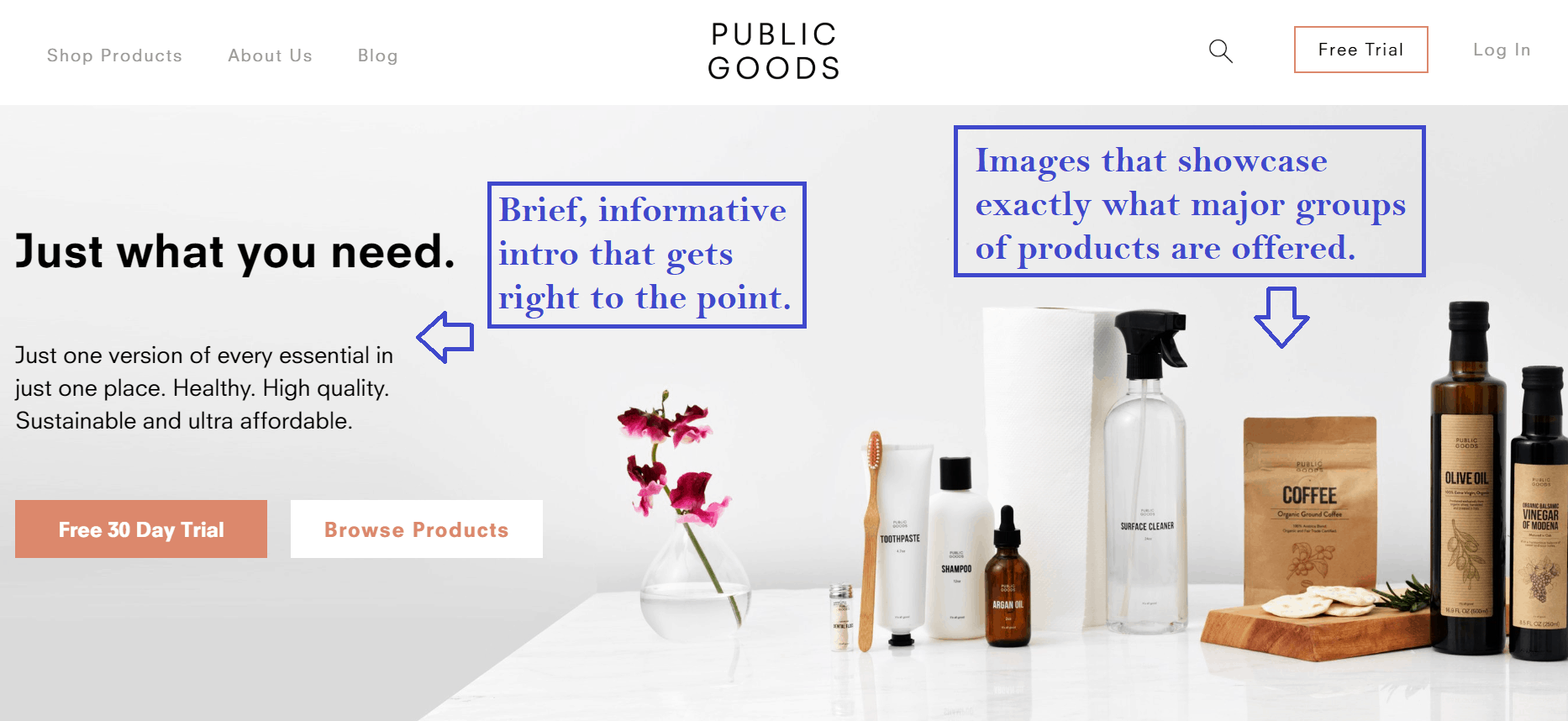 Your mission statement may articulate what fuels the passion behind your small-business, but your website should shout it through your visuals. Perhaps the greatest advantage of doing so is in the research that found that pages with images or video average about 94% more views than those that are text-only. To me, that sounds like a terrific reason to start acquiring relevant images that showcase your business' mission and values.
Beautifully Designed Web Pages Drive Traffic To Your Website
Images offer up information at a literal glance. Within seconds, your site visitors are already deciding how they feel about your business, and a large part of that decision lies in how your website appears. Did you know that 90% of all information that is sent to the brain is visual? In fact, our brains naturally process images 60,000 times faster than words.
If you can establish interest through your images, you are much more likely to have visitors linger on your site to see what you're all about. This is where all your great content comes in. The longer your visitors peruse your site, the more chances you have to convince them to choose you as their place of business. Not only that, but with longer session times you can decrease your bounce rate and improve your site ranking.
Using an ALT image text or tag is also an enormous benefit of utilizing images. This is what appears in place of an image in the event that it doesn't load. It also appears when you hover your mouse over an image.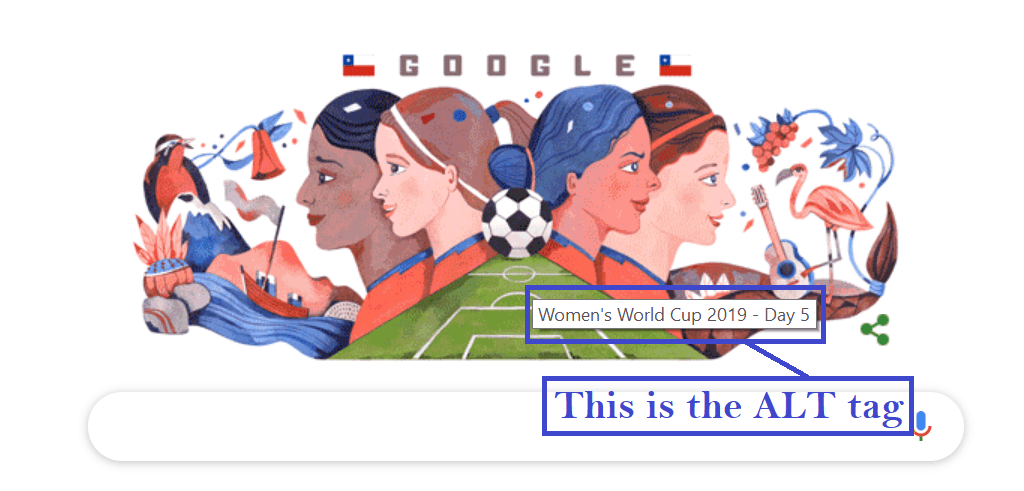 More importantly however, this is what allows Google to understand the content of that image which then allows it to put that image into search results. This is an often ignored strategy that really does improve your chances of appearing in search results.
Images Are More Likely To Be Shared On Social Media
We live in a highly digitized age where the online world is simply exploding with content. My old college professor used to joke with us when it came to writing research papers. He would say, "you'll need at least 6 sources for this assignment, and 3 of them must be books from the library. You know, that big white building across the street."
Nearly everything is accessible through the internet and it has become necessary for businesses to build an online presence just to survive. The world of social media is no exception. We have seen it grow into a business resource for building a following just as much as it is an avenue for individuals to do the same.
Research has shown that, articles with an image once every 75-100 words receive twice as many social media shares as those with fewer images. Twitter and Facebook in particular see the greatest benefit from the addition of pictures.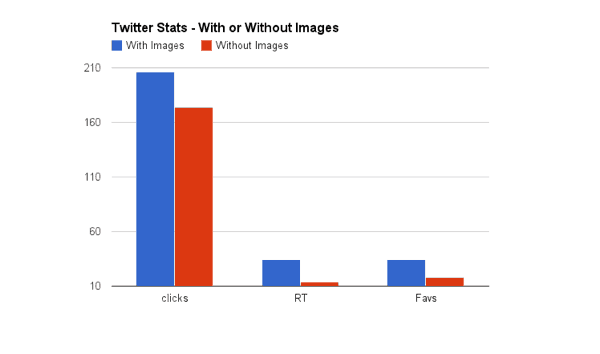 These trends indicate that, with a growing preference for visual aids, your business website is highly likely to benefit from the addition of images.
Representing Your Business Through Images Establishes Trust
How many times have you purchased something online only to receive it and find that it's not exactly what was pictured? You try again, and this time you check the reviews of the product, the company, and anything else you can find. You may or may not be pleased with your purchase this time, but your chances are definitely better because you've done more research.
Buying online practically needs its own training these days because it can be hard to tell the real thing from the knock-off or the genuine business from the scam artist. So, naturally, online shoppers have their guard up. As a small-business, you now have to work twice as hard to establish trust.
What can images do to help establish trust? Well, whether we're talking about high quality shots of your product, or photos of your team, pictures help customers feel like they know you. Online, where everything is unknown until the product is received or the service is rendered, any additional information is a buyer's gold mine. Being transparent about who you are and what you do does so much for increasing your authenticity as a business.
The more certainty a person has of your business, the greater the trust and the potential for loyalty to your brand.
Relevant Photos Are the Secret Weapon
The visual content of your website is a proven advantage to your small-business strategy. The key to ensuring it continues to boost your marketing is to ensure that your image choices are relevant. That should be fairly simple as long as you are true to what your business stands for. You also don't want to get caught up in Google's spam filter which has learned to "recognize" images instead of relying purely on the ALT text.
To get started on adding images to your website, we recommend at least one per page.
If you're looking to revamp your website or start one from scratch, read our blog to learn about 7 free or low-cost website builders. You can also read about what your small-business website should contain to get an even better idea of how to bring it all together. Let us know in the comments if you learned anything new from this article! We love hearing from our readers!