It's no secret that we think a robust Google Business profile is beneficial for local business growth. Learning how to leverage Google Reviews as part of that strategy is vital in expanding your online visibility, credibility and competitive rankings.
Whether you like it or not shoppers are reading the reviews posted on business review sites such as Yelp, Google, Facebook, and TripAdvisor before making a purchase. Additionally, according to a study on online reviews, 97% of consumers check online reviews before buying a product to get additional insight.
But the fact is that the Google Review platform with Google Business is outpacing the other review sites and is deeply influential toward your SEO success. If you're going to invest resources in growing your business reviews we highly recommend starting with Google Reviews.
Over and over again consumers say they are likely to check reviews on Google before visiting a business — more than any other review site. In fact, Google is the number one site for online reviews as shown by its 57.5% share of all online reviews.
Be honest, if you're searching for "healthcare options in Yakima, Washington" and the search results pictured below pop up, which one are you going to pick? You're likely going to start with our friends at Assurance because of the quality and quantity of reviews.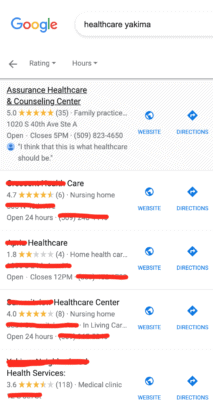 Ok, so what does that mean for my local business?
Strategically gathering online reviews on Google can be a vital marketing strategy for business growth and brand differentiation from your competitors. Plus it's a FREE functionality built into your Google Business profile.
Alright, I see the value of online reviews. Now what do I need to keep in mind?
Claim your Google Business profile. We've written about this process extensively, and it's a no-brainer. Go do it immediately! If you don't do this you won't be able to manage your business information on Google Maps and Search or engage with the reviews that may come your way.
Don't buy your reviews. Google has specific guidelines for inviting people to leave a review for you and paying for them is not allowed. In fact you can get in big trouble with the FTC.
Don't set up a review gating system. For a long time, it was a marketing strategy to solicit reviews and then set up a system that deciding whether to ask them for a Google reviews based on their response. This policy goes against Google's guidelines and doesn't match a general move toward more and more internet transparency.
How do I build my Google Review system?
Find your review link. Within your Google Business profile you'll see a button that opens up the link that you'll copy and share with prospective reviewers.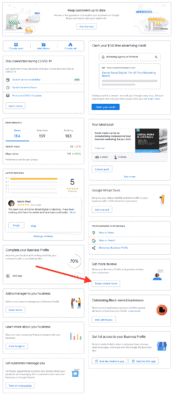 Ask your customers for reviews. Whether it's person or with a follow up email you'll want to make sure the invitation is presented. Do not be afraid to ask! If you've done a great job, then people are excited to be advocates for you. If you send an email, be sure and include the link to your reviews. Example messages can look like this…
"We're so glad you came in today. Would you mind reviewing our business on Google? Your feedback helps us know how we did and how we can deliver an even better experience for you next time."
"If you enjoyed your visit today let us know online. We love getting reviews on Google"
"We working hard to better serve [name our town], would you take a moment and fill out a review for us so others can get a sense of what we do and how we do it?"
We also recommend putting your review link in other strategic spots. Website homepage, receipts, social media profiles. All of those will help you generate more feedback.
Respond to reviews. Data shows that the majority of customers expect a review response within 7 days, and a lot of them never get a response. Show off your customer-centric personality and grow your reputation by responding to every review. Also, don't forget to learn how to respond to negative reviews which can help repair or improve the online reputations of your brand.
The easiest method to get good reviews? Make your customers happy.
If you're a company that provides amazing service and consistently wows its customers the chance of growing your online reviews is huge! So make sure you've got a plan to capitalize on that momentum. On the flip side if your business is struggling in the customer service department, then work on righting the ship first and then work toward growing a solid online reputation.
Learning how to leverage Google Reviews is not difficult, but it does take some time and commitment. Keep up with your strategy and take customer feedback seriously. The quantity and quality of reviews can differentiate you from the pack of competitors and magically grow your business.