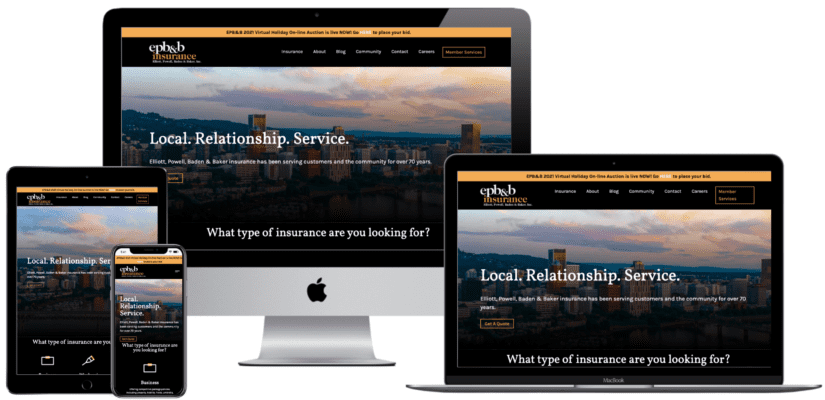 Snapshot
EPB& B Insurance came to us with a relatively new website, but recently experienced a hacking situation that had left their website blacklisted and vulnerable. They were looking for comprehensive technical support and a team that would be available when they needed it.
They also wanted support that would work alongside them and allow them to take control of posting new content.
The Approach
After a discovery process we recommend our Website Cleanup and Migration service followed by subscribing to one of our Website Care Plans.
Website Cleanup and Migration – This includes creating a staging site that we could test all the outdated technology and get everything up today and as secure as possible. This also included a long checklist of things like addressing loading speed issues, optimizing images, updating plugin licenses and confirming sitemap submission to Google. We also included a few extra security measures. Once we were satisfied, we migrated the site seamlessly to its new home on premium WordPress hosting.
Website Care Plan – Now their website is getting proactive maintenance to avoid security issues. They have peace of mind with secure hosting, daily backups, security sweeps and uptime monitoring. Our team also performs all their software updates monthly and provides a helpful website report with analytics and work we've done.
Results
The Epbb.com website has a great home, is secure as possible and updated regularly. The team at Epbb also has access to our support desk at anytime for content changes or any other issues they're having trouble with.
At the end of the day, the Epbb team now has peace of mind that their site is secure, up to date and doing its job of engaging new customers.