When it comes to developing your small business website you've got options and price-points galore. Enough to drive you crazy!
Are you a do it DIY'r? You can pull together a website on a shoestring budget for under a $100 setup and a few $'s a month for hosting. Squarespace or a self-hosted WordPress site gives you some solid options, but be prepared for a steep learning curve.  These are not bad options, especially if your budget is limited. Keep in mind, however,  that you alone will be responsible for upkeep and technical support. This can eat precious hours of your day and cause unnecessary stress.
Ready to pay someone to do it for you? The going rate for websites is highly subjective and dependent on complexity, customization and content management. A simple 5 page site can start at a few hundred dollars. A complex custom 5 page site can be $5,000. A fully detailed, custom site for a sizable company can be $25K-$100K.  Be sure and have a clear idea of what your business needs are and don't let people sell you too much. Get plenty of quotes from website developers.
For most small businesses with less than 10 employees a straightforward, effective site with less than 10-15 pages is all you need to help expand your digital influence. This gives you the best chance to build a homebase and a content hub that is accurate and worth finding. The end goal being to move potential customers from browsers to buyers.
Keep in mind that your business will grow, adapt and evolve as time goes on. Don't fork out thousands of dollars for something that is going to need to be changed in 16 months. Make sure your site is build on a solid framework and allows your site to grow easily as your business needs change. Also, consider if you want to update key content yourself (blog, announcements, etc) and make sure the process is as easy as possible.
Don't forget about hosting, domain fee's and service charges. Take a look at the comparison of our Basic Website and Service Package compared to the average rate of a new website.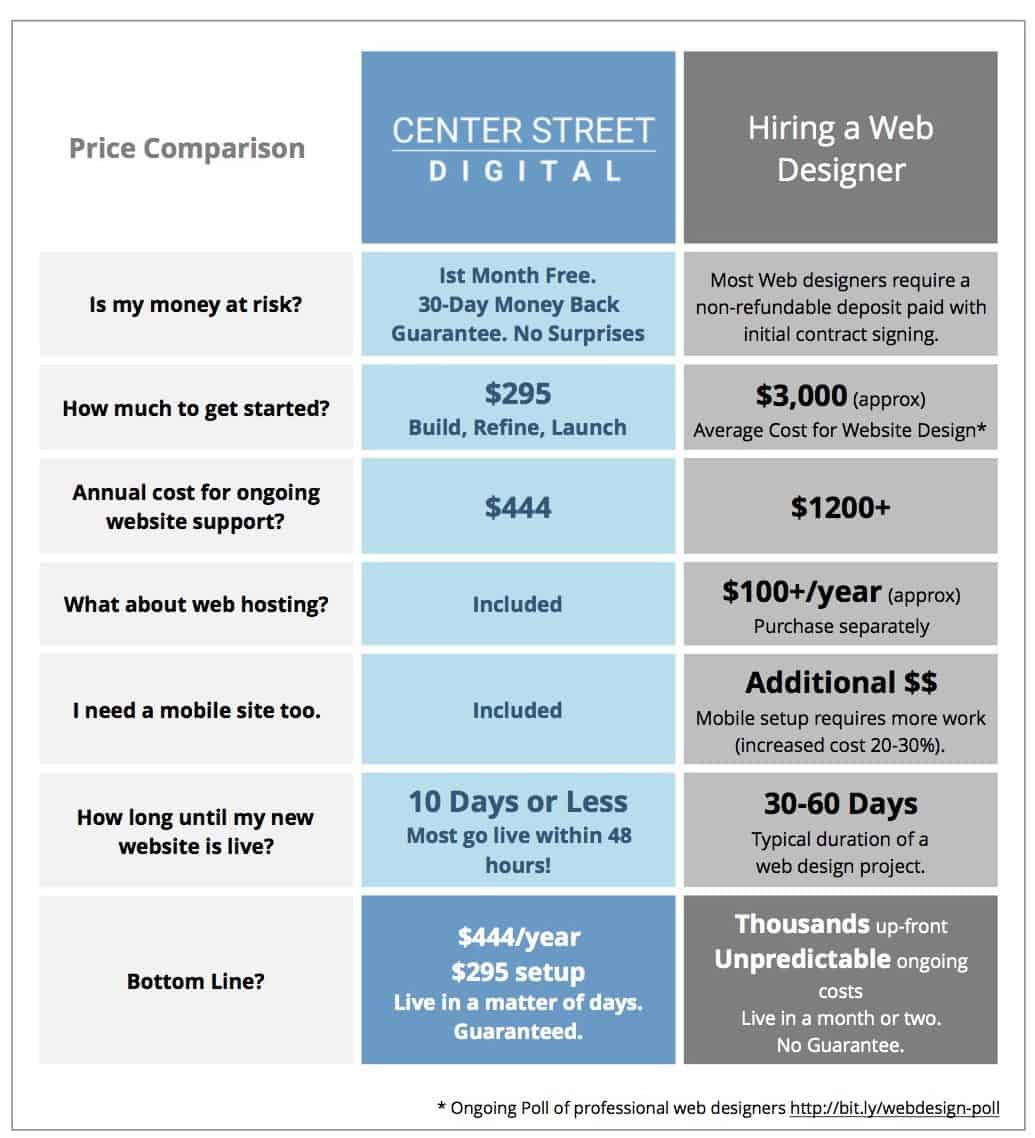 Lastly, keep in mind that the fanciest website doesn't hide the fact that you might still be confusing your customer. If you business proposition isn't clear and your message is confusing we guarantee that even the flashiest site will still lose sales. Be prepared to invest time into the copy for (at minimum) your tagline, About page and services. Clarifying your messaging is a must!
Navigating the online world can be overwhelming and confusing, but the opportunity for small businesses to cut through the noise is huge!